Happy Ash Wednesday everyone!! I'm not Catholic myself, but I do have friends and family that are. So, just a reminder...no meat today!
I'm pretty excited that I remembered to take a picture of every.single.thing.I.ate on Monday so that I could put together a WIAW post to share with you all. This was from an on-plan day, too. Even though I had way too many indulgences over the weekend, I still managed to have a one pound loss from last week. I'm not sure I really
deserved
the loss, but I'll still take it!!
Here's how my day in food looked from Monday:
Breakfast:
Lunch:
Snack:
Dinner:
Dessert:
Total points for the day put me right at 26! I also got in my workout for the day, too! I'd call that WeighhWatchers success!! I love a perfectly on-plan day!!
I hope you all have a great day. Stay warm wherever you are!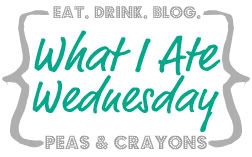 I'm teaming up with
Peas & Crayons
for another WIAW today. Join in if you can!!
So long for today...