Happy Wednesday everyone! I hope you're all having a great week. It's chilly again here. I got my Spring fever over the weekend when it was up into the 70s and lots of sunshine!! That always happens and makes me ready for Spring even more. Of course, it's back to reality and back to the cold nights and chilly days. It's still pretty sunny though, so I guess I can live with the cooler temps.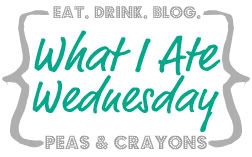 I thought I would combine my WIAW post with a recipe for you all. These donuts are what we had for breakfast in Sunday. For some reason, I get obsessed about Red Velvet everything around Christmas and Valentine's day. Is anyone else like that? What's funny, is that before I moved South, I'm not sure I ever had red velvet anything!! I didn't know what I was missing!! Another one of my (not-so-new) obsessions is baked donuts. Who doesn't like a pretty baked donut? I mean, it looks good and isn't really that bad for you. I saw these donuts on Pinterest a couple of weeks ago and knew that I had to make them when we were closer to Valentine's Day. Sunday was the perfect day for this. They were absolutely delicious and even taste good a couple of days later. Since Valentine's Day is on a Saturday, I think these would be perfect to make for breakfast-in-bed!!
Baked Red Velvet Donuts
Servings: 12
Points+: 4
1 c. all-purpose flour
1 t. baking powder
1/2 t. baking soda
1/2 c. sugar
1/4 c. unsweetened cocoa powder
pinch of salt
1 egg
1/2 c. applesauce
2/3 c. skim milk + a T. apple cider vinegar
1/2 t. vanilla extract
1 red food coloring
For the cream cheese frosting:
1/8 c. light butter, softened
1/8 c. light cream cheese, softened
1/2 t. vanilla extract
1 c. powdered sugar
milk (Start with just a couple of tablespoons. I ended up adding a good bit more to make it pretty fluffy)
sprinkles to decorate
Preheat oven to 350 degrees. Spray a donut pan with non-stick spray.
In a mixing bowl, combine flour, baking powder, baking soda, sugar, cocoa powder and salt. Stir to combine.
In another (larger) bowl, combine egg, applesauce, milk and vanilla. Stir until well incorporated. Add food coloring and stir until distributed. Slowly, add dry ingredients to wet ingredients and stir just until mixed.
Spoon batter into donut pan. Bake for 10-15 minutes or until donut is springy to the touch. Remove from oven and allow to cool.
Meanwhile, beat the butter and cream cheese together until light and fluffy. Add vanilla and powdered sugar. After this has been mixed, add in enough milk until the frosting is the consistency you want.
After the donuts have cooled, you can frost them and add the sprinkles.
These things were so good! Camden even had one and a half!! Definitely worth trying!!
Have a wonderful day!
So long for today...
Recipe adapted from
Eat Drink Love