Happy Hump Day everyone!! I hope you are all staying warm on this chilly day. Are you back into the swing of things after the holidays? I'm trying, but having a little one that likes to party all might instead of sleeping is making it a little bit hard for me. Anyway, I thought I would do another installment of WIAW. Bonus, I even remembered to take a picture of everything I ate yesterday!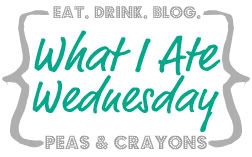 Homemade Breakfast Burrito and a banana
Snack:
Lunch:
Roasted Chicken Salad (This is my new favorite salad. I hope to do a post and share the combo with you all soon.) and some roasted butternut squash with a lactation cookie for dessert
Dinner:
Crockpot Chili w/ pasta & a dinner roll
Dessert:
Fiber One Lemon Bar & pineapple
All in all, not a bad day. I was apparently feeling snacky, but pair cold weather with lack of sleep, and. I think I did pretty well. At least they were all healthy snacks, right?
So long for today...