Haaaaaapy Hump Day everyone! I hope the week is going well for you! It seems to be dragging on for me, but it's a long week at work for me. I'll get by though :-)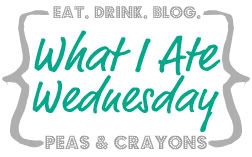 I wanted to spend this WIAW by talking about one specific thing that I've been eating lately. I got my spiralizer a few weeks ago and have fallen in love with it. I know there are a ton of different things that I can do with it, but the only thing that I have spiralized so far is some zucchini. This is what I bought it for though, so I think I'm doing ok. My new favorite lunch is spiralized zucchini with some marinara (and maybe some RF Parmesan cheese) with chicken breast.
I know it isn't the prettiest thing, but it's ok. It's so easy and so, so good! I just spiralize the zucchini sprinkle with some garlic salt and italian seasoning and pop it into the microwave for a couple of minutes until its a little tender. Then I add the marina and heat for another few seconds. Add the warmed chicken on top, and voila! Lunch is served! I've had it for the past 3 days for lunch and now I need to buy some more zucchini. Luckily, I will be stopping by Publix today, so I'm planning to pick some up while I'm there.
Sorry for the short post, but I have a ton of stuff to do today and need to get busy. I hope you all have a great rest of your week and I'll try to check back soon with you.
So long for today...