Happy Hump Day!!! Halfway there everyone!! So, I am buckling down and trying my hardest to stay OP this week. One way I'm trying to do this is by sending pictures of everything I eat to a friend of mine (Thanks Tracy!). Yes, it probably seems kind of ridiculous to people, but I'm really determined to stay OP. I really want to finally hit my goal. I have set so many goals and haven't hit even one of them. I just want to finally reach it. I think I'm going to go ahead and not do a date deadline, just want to eventually hit my goal weight. Does that make sense? So I did have my WI yesterday morning. I lost .4 pounds. While that isn't a huge loss, it's still a loss and I'm very happy with that!! Have you been joining in on the
Weekly Food & Fitness Plans
? They're a great way to stay motivated and to find some new meal ideas. I'm loving them and I hope you are, too!
Anyway, so since I'm sending pictures of my food for my friend, I thought I would do a WIAW post and share them with you...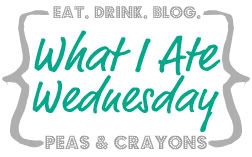 Breakfast was vanilla Greek yogurt with blueberries and cinnamon crunch cereal.
For a snack, I had a bagel thin and some pineapple.
Lunch was a lobster tail and baked potato with some salad and cherries on the side. I've never had lobster for lunch before, but BiLo was having a 3 day sale and steaming them for free. Can't beat that!!
For another snack, I had some unpictured watermelon and some frozen banana softserve with some PB2 mixed in.
Dinner was crockpot beef fajitas and some faux-fried cabbage on the side.
Dessert was a WW vanilla fudge swirl cone.
I went for a run and needed another snack afterwards, so I had some cinnamon burst cheerios with 1% milk.
All in all, not a bad day in my opinion. How are you all staying healthy this Summer?
So long for today...