Happy hump day everyone!! Are you all hunkered down to weather the storm? The weatherman said we were supposed to get some bad weather last night and today, so school was cancelled, which means that daycare was closed. So this mama is home with her kiddos today. Wish TC were here with us, but we are making the best of it.
I've had 2 on-plan days in a row so far and I'm hoping to have another one today. Being at home makes it a little harder, so we will see. I think I can, I think I can :-)
I remembered to take a picture of all of my healthy eats on Monday and thought I would join in WIAW this week.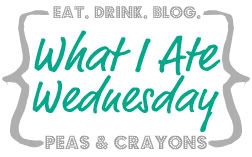 Breakfast:
Snack:
Granola bar and some strawberries
Snack:
Light string cheese and an apple
Dinner:
Turkey taco salad
Dessert:
Fiber One Lemon Bar
I'm pretty proud of my choices. Getting back in plan is hard! I'm hoping this motivation stays. Wish me luck!
Ok, time to go help Addison finish up her Valentines for her school party on Friday and maybe start working on her cupcakes, too.
So long for today...