Greetings from North Carolina everyone! We are up here visiting my cousins for a birthday celebration. The kids are having so much fun playing with their cousins. It's so nice to watch them all play together. We are leaving shortly, so I need to make this quick...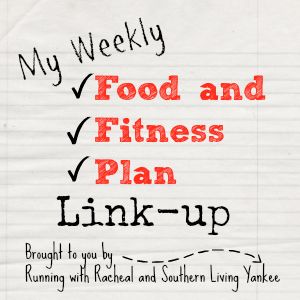 Food:
Sunday - Grilled Brats
Monday - Crockpot Fajitas
Tuesday - Skillet Lasagna
Wednesday - Crockpot Chicken & Stuffing
Thursday - Crockpot Roast Beef Sandwiches
Friday- Leftovers
Saturday - Grilled Hamburgers
Fitness:
I had an ok week with my workouts last week. The ice storm threw me off for a day and then this trip put a monkey wrench in my workout plans as well. But here is what I did:
Sunday - 3 mile run
Monday - 3 mile run
Tuesday - 30 Day Shred
Wednesday - Rest
Thursday - Yoga Meltdown
Friday - Rest
Saturday - Short neighborhood walk
We are supposed to have some nicer weather this week, so fingers crossed I'm more active.
I hope you have a great rest of your Sunday and a fabulous week!
So long for today...