Sunday, February 2, 2014
Weekly Food & Fitness Plan # 23
Happy Groundhog Day everyone! So did you hear that Phil saw his shadow this morning? Looks like we won't be having an early Spring. Anyway, this is a special day for me and my family because I grew up about 45 minutes from Punxsutawney. I've been there many times over the years and have even taken Addison to see Punxsutawney Phil a couple of times. It's a big deal to us. We always look forward to Phil's predictions every year even when he predicts an early Spring like this year.
Moving on, I promise to do a recap of my vacation later this week, but let's get to this week's Food & Fitness Plan. I'm planning to start the Simple Start plan tomorrow morning (have to have my last hurrah for the Super Bowl today.) So I'm hoping that everything I have planned works for the plan. I'm excited to start this and hopefully see some great results. I'm hoping to be able to do a recap of my two weeks on the Simple Start plan for you all and talk about any changes I've noticed. Anyway, here is this week's plan: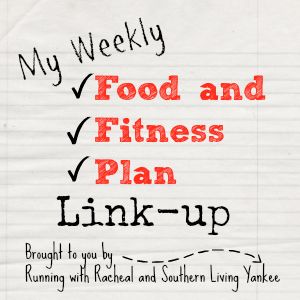 Food:
Sunday - Super Bowl Fare
Monday - Honey Balsamic Chicken
Tuesday - Grilled Pork Chips
Wednesday - Italian Chicken
Thursday - Linguine & Meat Sauce
Friday - Leftovers
Saturday - TBD
Fitness:
Sunday - Rest
Monday - Ripped in 30 - Level 1
Tuesday - Yoga Meltdown - Level 1
Wednesday - Ripped in 30 - Level 1
Thursday - Rest
Friday - Ripped in 30 - Level 1
Saturday - 3 mile run
I'm hoping I can transition into a healthier lifestyle pretty easily. I've definitely had many indulgences this past week and it's showing up on the scale.
I hope you all have a great week!
So long for today...
!-- start InLinkz script -->