Guess what day it is!!!! It's huuuuump day!! Well, kind of. Is it still hump day if you have Friday off? Hmm, something to think about. In the meantime, I thought I would team up with Jenn at Peas & Crayons to give you another What I Ate Wednesday post again. Some things have changed, some things have not. I know the suspense must be killing you, so I won't make you wait any longer!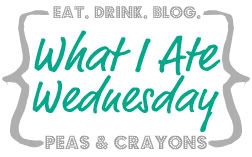 BREAKFAST
Breakfast was two hard boiled eggs with a banana bread english muffin and some strawberries.

LUNCH
DINNER
Dinner was a delicious new recipe that I tried and will be posting on the blog very soon.
SNACKS
For my snacks, I had a Shakeology shake made with 1/2 if a frozen banana, some almond coconut milk and a teaspoon of peanut butter. I also had an apple and some light string cheese.
I may also have had an unpictured bowl of Rice Krispies...maybe :-)
I hope you all have a great week. I'm going to try to get a recipe up for you within the next couple of days.
So long for today...