Happy Hump Day everyone!! I hope you're all having a great week. I've been so busy trying to take care of things for our trip later this week. I think I'm doing a pretty good job of remembering everything that I need to. But I guess we won't find that out until we get there! Ha! If I forget anything, I'm sure there will be a WalMart near by. Isn't there always? Things have been crazy busy at work for me, too. I'm not sure why there is so much going on all of the sudden, but at least it helps my days to go by faster. I just hope that I can take care of the giant stack of work that I have on my desk before it's time to leave! Fingers crossed!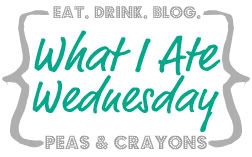 So I've had a lot of zucchini in my refrigerator lately. When I would go get strawberries from the local farm, I would pick up a couple of zucchini, too. I think my family got pretty tired of it quickly though, so I had to start coming up with new ideas. I've made zucchini bread, sauteed zucchini, miniature zucchini frittatas and these Zucchini Carrot Oatmeal Muffins. I know that sounds like a whole lotta healthy right there, and it is! But I promise they are delicious, too! I made them and froze them. I thought they would be great to grab and go while we are on vacation. Addison had one over the weekend and loved it. She even shared them with our neighbors. She called them "Cinnamon Muffins." I didn't tell her they had zucchini and carrots in them. Why ruin it? Here's the recipe:
ZUCCHINI CARROT OATMEAL MUFFINS

Servings: 24
Points+: 5
Adapted from
Yellow Bliss Road

1/2 cup rolled oats
1 cup all purpose flour
1 1/2 cup whole wheat flour
1 1/2 cups sugar
1 tablespoon baking powder
1 1/2 teaspoons ground cinnamon
1 teaspoon salt
3 large eggs + 1 large egg white
3/4 cup coconut oil
1 cup grated zucchini
1 cup grated carrot
Preheat oven to 350 degrees.
Mix dry ingredients in a large bowl and set aside. In a separate bowl, whisk eggs and oil. Stir in grated zucchini and carrots. Add to dry ingredients and stir until combined.
Fill muffin cups about 3/4 full and bake for approx. 20 minutes. They are done when a knife inserted comes out clean, and tops spring back when lightly touched.
Have a great hump day! I'll try to keep in touch with some posts over the next week or so, but no promises :-)
So long for today...