I am so excited to tell you about one of my favorite bloggers and a new feature that she and I are teaming up for that will be starting on the blog soon.
But before I get to that, how about the new look? I was thinking about actually paying someone to do a redesign for me, but I really hated to part with that money. After talking to some blogger friends of mine, exploring Blogger a little bit more and becoming reacquainted with PicMonkey, I decided that I was going to try to do it on my own. I'm pretty happy with the way it turned out. I might still make a few tweaks here and there, but there shouldn't be anymore major changes to the blog. Of course, I am always open to suggestions and new ideas. Feel free to speak up!
Ok, now on to the new feature. I am teaming up with Racheal of
Running with Racheal
to do a weekly meal/workout plan. Since I started back to work last week, it's become even more important to have a plan in place for the week. I used to just pre-plan our meals for the week, but now it looks like I need to pre-plan my workouts, too. I haven't been working out as much as I would like to the last few days. I know I got thrown off with the mastitis and we have had a couple of busy evenings, but I need to get back go it. I'm hoping this new plan will help.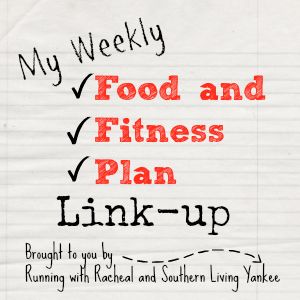 This is meant for anyone and everyone that wants to join. It's a great way to put your goals out there and be accountable to someone else. That's what we're here for. This is that extra push that you need to set and meet your weekly goals.
I really want to reach my weight and fitness goals sooner rather than later. I'm hoping that this new feature will help to motivate me to do that. I know it might take me a couple of weeks to get into the swing of things, but eventually, I really want to find my routine and stick to it. I'm such a structured person about things. I think that is one of the reasons that WeightWatchers works so well for me. So what's a little more structure?
I'm so excited to interact with you all, meet some new people and maybe find some new recipe ideas! So don't forget to check back here Sunday for the First edition of My Weekly Food & Fitness Plan.
So long for today...