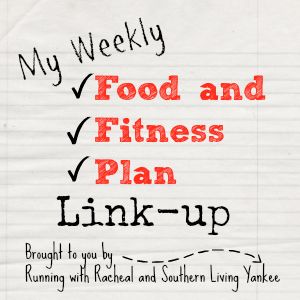 Here it is, the first week of My Weekly Food & Fitness Plan. Racheal of
Running with Racheal
and I are teaming up to help each other and all of you to find some motivation and set some goals for the week. We're so excited for this and hope you will all help us to make it a great success. If you're not sure what this is all about, no fear. Click here for a quick description.
I hope you're all having a fantastic Labor Day weekend. Mine has been great. Have been spending lots of time with family and friends. Loving the extra long weekend, too!
Ok, so I might as well just jump right in with what I have planned for this week...
Dinner Plan:
• Sunday - Family Dinner
• Monday - Labor Day Cookout
• Tuesday - Hamburger Helper
• Wednesday - Kraft Recipe Maker - Sweet & Sour Chicken
• Thursday - Spaghetti & Meatballs
• Friday - Leftovers
• Saturday - Grilled Hamburgers
I know I have a lot of processed foods listed, but I am in the process of doing a pantry purge. More on that later...
Workout Plan:
• Sunday - 3 mile run
• Monday - Ripped in 30
• Tuesday - Rest
• Wednesday - 3 mile walk
• Thursday - Ripped in 30
• Friday - 3 mile walk
• Saturday - Ripped in 30 or 3 mile run
Can't wait to check back in next week to see how I did with all of these.
Here is your chance. Click on the button below to add your link to the link-up. Don't forget to take a couple of minutes to visit some of the other blogs to see their plan for the week and leave some comments for motivation while you're there, too.
See you next week!
So long for today...