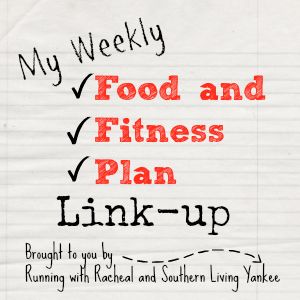 Wow! Are we really at the end of another weekend and gearing up for another week? Who can we talk to about having longer weekends? Even just one more day would help so much. Well, since it's Sunday, that means it's time for another Weekly Food & Fitness Plan. We had some people join us last week, which was fantastic! But I know we can do better! Add yours and tell a friend! Let's make this huge.
So I guess I need to re-cap on last week. First of all, I had completely forgotten that we were going camping when I wrote out my plan, so some of my meals had to be changed for the weekend. We also had a monkey wrench thrown into things when Camden ended up with the Croup. Luckily, Addison never had it, because let me tell you. It sucks. It sucks not only for the baby, but also for the parents, because there is very little you can do to help. We lived with the cool mist humidfier in the bedroom for a couple of days, but it can only do so much for him. Poor guy had a horrible cough. Thank goodness he is just about over it now! Well, needless to say, I didn't get all of my workouts in like I had hoped. I'm still trying to get into the work week routine, too. I think I just about have it down, but a couple more weeks and I'm pretty sure that I will DEFINITELY have it down! I did get a few workouts in, but not like I had planned. But that's ok. A little bit of exercise is better than none, right? So let's take a look at what I have planned for this week:
Dinner Plan:
• Sunday - Grilled Turkey Brats w/ homemade fries & veggies
• Monday -
Grilled Honey Lime Chicken
w/brown rice & broccoli
• Tuesday - Taco Ziti w/ black beans
• Wednesday - Cheese Ravioli w/ sauteed zucchini
• Thursday - Chicken Helper w/ lima beans
• Friday - Steaks & Bakes w/ green beans
• Saturday -
Grilled Chicken Cordon Bleu
w/ couscous & sauteed zucchini
Workout Plan:
• Sunday - 3 mile run
• Monday - Yoga Meltdown - Level 1
• Tuesday - 3 mile walk
• Wednesday - Ripped in 30 - Level 2
• Thursday - Rest
• Friday - 3 mile run
• Saturday - 3 mile run
I'm debating on being a little more realistic and putting another Rest day in there somewhere, but we'll see how this week goes. Fingers crossed that I don't need to.
I hope you all have a great week! Don't forget to linkup with your plan and also give some love to some of the other blogs that have already linked up.
So long for today...