The floors are done! D-O-N-E! Yay!! Well, we still have to finish the trim work, but we were able to put my kitchen back together last night. Oh happy day!! Now on to the next project, right!? Haha! Isn't that the way home ownership works? You always have a new project that you want to work on. Oh well. I just have to say that I am in love with my new floors. They look amazing! You'll see. I'll do a post on them so you can all share the joy with me!!
Ok, ok. So since it's HUMP DAY (Woot, woot!!), that means it's time for another edition of WIAW brought to us by Peas & Crayons!!! I missed it last week, but made sure to get in on this week's post!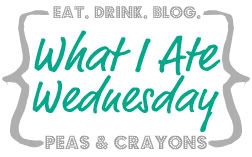 BREAKFAST:
SNACK:
Nature Valley Granola Thins
LUNCH:
SNACK:
DINNER:
DESSERT:
I've had a few days lately with out of control snacking between meals. I have no idea why, but I really need to get it under control or I definitely won't be dropping these last 10 or so pounds of baby weight!
I hope you all have a great day! I hope to post my recipe for Cherry Limeade cupcakes soon. So be on the look out!! They're WW-friendly, too! Here is a sneak peak...
So long for today...