Hi friends! I hope you're all having a great weekend and that you're all staying warm and/or dry. It's been a pretty wet weekend down here for us. We went to see our holiday light display last night, but some of the lights were out because of the rain. But we still had a great time!
This past week has been very sweet for me. Last Sunday, I made 5 different kinda of fudge. Friday, I made pecan brittle, chocolate peanut clusters and some pretzel toffee bark. They all turned out great! Today, my mom and sister came over for us to bake cookies. We made 5 different kinds and had a great time doing it. We really don't need the cookies. It's just a fun tradition that we have. It's nice to carry on those traditions.
Needless to say, I've been eating way too many treats this past week, so I really need to get some healthy eats in this coming week.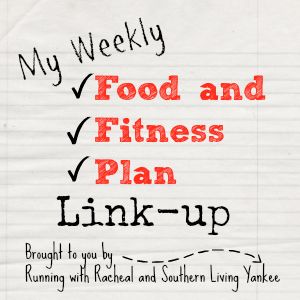 Here's what I have planned:
Food:
Sunday - Chicken Noodle Soup
Monday - Grilled Honey Lime Chicken
Tuesday - Spaghetti & Meatballs
Wednesday - Grilled Kielbasa
Thursday - Leftovers
Friday - Grilled Hamburgers
Saturday - Cheesy Stuffed Shells
Fitness:
Tuesday - 30 day Shred - Level 2
Wednesday - Yoga Meltdown - Level 2
The last few days have been pretty busy for me, so I haven't gotten a lot of exercises in. I promise you that I am and will continue to keep trying to sneak some in!
I hope you all have a great week!
<!-- start InLinkz script -->
<script type="text/javascript">
<!-- end InLinkz script -->