Happy Sunday!! I hope you all have found the holiday spirit!! I sure have. With the exception of gifts for the kid's teachers, I am done with my Christmas shopping. I even have everything that has already been delivered wrapped. Even the ones from Santa. I know, I know. Quit rolling your eyes. I've never been this far ahead of the game before. I'm feeling pretty proud of myself right now.
Last week ended up being way off plan. Most of the dinners were different from what I had planned. It just ended up being hectic and things changed. So this week is going to have a lot of the same meals I had planned last week.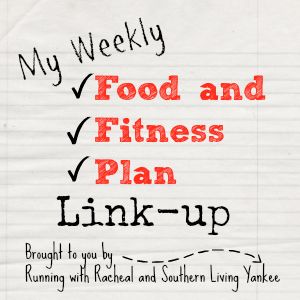 Here's the plan:
Food:
Sunday - Fresh Take Chicken
Monday - Chili
Tuesday - Hot Roast Beef Sandwiches
Wednesday - Cream Cheese Chicken Chili
Thursday - Spaghetti & Meatballs
Friday - Leftovers
Saturday - Winging It...
Fitness:
Monday - 30 Day Shred - Level 1
Tuesday - Yoga Meltdown - Level 1
Wednesday - 30 Day Shred - Level 2
I'm baking cookies with my mom and sister on Saturday, so I'm not sure how the exercise is going to work out, but we'll see.
Have a great week everyone!!
<!-- start InLinkz script -->
<script type="text/javascript">
<!-- end InLinkz script -->