Happy Wednesday everyone! We've made it halfway through another week! I'm hoping you're all having better weather than we are. It's just been absolutely miserable this week. Rain and cooler temperatures. One of our school districts a county or two away had a delay this morning because of possible snow. Yes, I know, where I'm from, we would have laughed at that given the dusting of snow that was supposed to come. But, again, I have to remember that they don't have the same equipment down here that they have up North. Plus, the kiddos get a little extra sleep. That never hurt anyone, right?
I had my WI yesterday and I'm happy to report that I was down 2 pounds! Yay!! That's definitely a good start to the year! Hoping to keep it up, too!!
Since I'm trying to stay on track, I thought I would do another WIAW for you (and me) to see. I've been looking back through my past WIAW posts to see what I used to eat when I was staying OP. So some of this might look familiar to you. Here we go...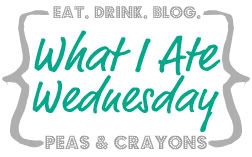 Breakfast has been one egg, plus one egg white and a packet of lower sugar oatmeal.

I usually have a banana as a mid-morning snack.

Lunch has been a ham and cheese sandwich with FF mayo on a Flatout Foldit with some Cracker Chips and some steamed green beans. Sometimes, I might also have a 1 PP chocolate cover marshmallow snowman for dessert.

For an afternoon snack, I've been having some Light Greek Yogurt - these new Whips are so, so good!!

Plus, I also have some kind of fruit.
My dinners vary from night to night. For this dinner, I had some
Orange Honey Glazed Chicken
with brown rice and broccoli. Luckily, my kids love these healthy dinners and sometimes ask for more!!

My dessert lately has been a Fiber One brownie topped with some light whipped cream. I like to heat the brownie first and then top it with the whipped cream.
I'm pretty happy with my eating lately. Yes, I have a few processed foods in there, but hopefully they'll disappear eventually, too. How have your eats been lately?
So long for today...