Happy Monday everyone! I hope you're all well and had an amazing weekend. Things have been pretty hectic for us the last couple of weeks. But I think we might acutally get a break for a bit. We are camping this coming weekend, but we'll be pretty local, so that will be nice.
We had Camden's baptism at church yesterday. Friday and Saturday were spent getting ready for that. Sunday, we went to church for the service, then we had a cookout with everyone at our house afterwards. It was a great day. We are very blessed to have such wonderful family and friends.
Here are some pictures from the day...yes, we have very tall ministers. They are both over 6 feet tall!
With my mom and dad:
My sister and my niece:
TC's mom hold Camden and our neighbors that came for the service:
Cupcakes I made for the after party:
Here is a side by side comparison of Addison from her baptism and Camden from his. Sometimes the similarities amaze me!
We really had such a nice day. And to top it off, our Steelers not only won, but they beat the Ravens!! Hope this means the season might improve from here. Not holding my breath on that one though.
Ok, so now it's time to buckle back down and get back on track with my eating and exercise. Here is what I have planned for the week: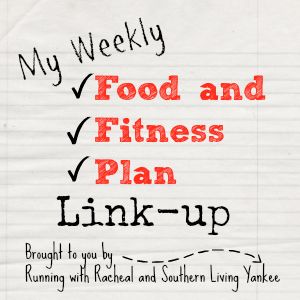 Dinner Plan:
Monday: Grilled Turkey Brats
Tuesday: Grilled Hamburgers
Wednesday: Crockpot Roast Beef Sandwiches
Thursday: Ravioli
Friday: Crockpot Chicken Corn Chowder
Saturday: Camping - Mountain Pies/Hot Dogs on the Fire
Exercise Plan:
Monday: T25
Tuesday: T25
Wednesday: Yoga Meltdown - Level 1
Thursday: T25
Friday: 3 mile run
Saturday:3 mile run
I know I don't have a ton of detail, but I haven't been to the grocery store yet. So I need to do that before I will know what the sides are. I promise next week's plan will be better.
I hope you all have a great week. Don't forget to link-up with you plan for the week!
So long for today...