Happy Sunday everyone! I hope you're all staying warm wherever you are. We've been having some crazy temperatures lately that have been all over the place this past week. This coming week is supposed to have even bigger dips, too. Might have to break out the fleece!
We're having a low key weekend this week. We've had plenty of cozy fires and will probably have another one today. We have a baby that isn't feeling 100%, so it's just going to be a lounge around the house kind of day today.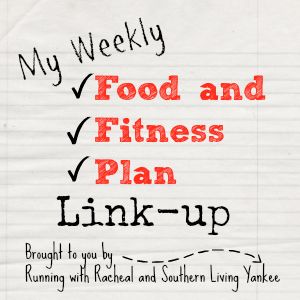 Here is this week's plan:
Food:
Sunday- Taco Bake
Monday - Chicken Marsala
Tuesday - Fajitas
Wednesday - Sweet & Sour Chicken
Thursday - Spaghetti & Meatballs
Friday - Leftovers
Saturday - Grilled Turkey Brats
Fitness:
Sunday - 4 mile run
Monday - 30 Day Shred - Level 1
Tuesday - Yoga Meltdown - Level 1
Wednesday - 30 Day Shred - Level 1
Thursday - Rest
Friday - 30 Day Shred - Level 1
Saturday - 3 Mile Run
Friday might end up being a family walk or a run. We'll have to see how my week/day goes. I might bump up to Level 2 of shred next week. We'll see about that, too.
I hope you all have a great week! Don't forget to check out some of the plans for the other ladies on here. Who knows, you might be inspired to try a new workout or recipe.
So long for today...
<!-- start InLinkz script -->
<script type="text/javascript">
<!-- end InLinkz script -->