Happy Daylight Savings time everyone! Did you remember to turn your clocks back? As always, I hope you're having an amazing weekend. Our's has been great, but going to fast as usual! Since we've taken the last couple of weeks of from working on the house, we're trying to get back into that. I'd like to have the house organized and de-cluttered by the time the holidays (not counting Halloween) roll around because we always end up with extra clutter around Christmas!
I'm going to try something new this week and keep a copy of the menu plan on the refrigerator. I've been finding that I can't remember what I've planned for the week and I'm always having to go in and check. But I think if I keep it up on the fridge where I can always see it, it will make it easier for me to have everything prepped and ready to go. Out of sight, out of mind, right?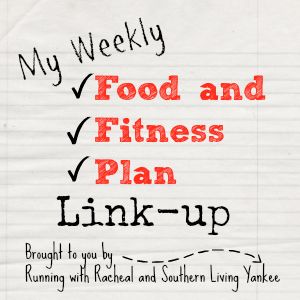 Here's this week's plan:
Menu Plan:

SUNDAY: Oven Baked Swai
MONDAY: Grilled Honey Lime Chicken with brown rice and broccoli
TUESDAY: Cinnamon Pancakes w/ turkey bacon
WEDNESDAY: Crockpot Chicken Parmesan w/ Spaghetti
THURSDAY: Leftovers
FRIDAY: Taco Bake
SATURDAY: Grilled Hamburgers w/ hand-cut oven baked fries
Fitness Plan:

SUNDAY: 4 mile run
MONDAY: 30 Day Shred - Level 1
TUESDAY: 30 Day Shred - Level 1
WEDNESDAY: Yoga Meltdown - Level 1
THURSDAY: Rest
FRIDAY: 3 mile run
SATURDAY: 3 mile run
I hope you all have a great rest of your weekend and a fantastic week. I will try to be better about putting up some posts. Might even share a new recipe with you all!
Don't forget to check out some of the other blogs in the link-up and give the ladies (and possible gentlemen) some love!
<!-- start InLinkz script -->
<script type="text/javascript">
<!-- end InLinkz script -->
So long for today...