Happy Sunday everyone! I hope you are all staying warm and/or dry wherever you are. We've had some pretty warm weather the last few days and it was so nice! Except yesterday was rainy and dreary and now it's Turning cooler again. But I like it to be cooler for the holidays. I guess that's because I'm from the North. It was very rare if it was warm for Thanksgiving, so I think I'm still in that mindset. It doesn't even seem like the holidays to me if it isn't cool, which a lot of times in the past it hasn't been. Anyway, it's supposed to be cool this week for Thanksgiving, so that should definitely have me in the holiday spirit.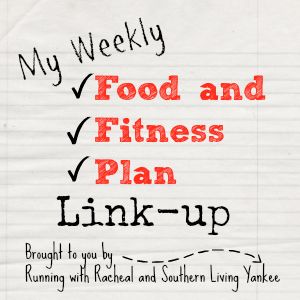 Here's what is on tap for the week:
Menu Plan:
Sunday: Mountain Pies on the fire
Monday: Grilled Turkey Patties
Tuesday: Skillet Fried Ham & Potatoes
Wednesday: Lasagna
Thursday: Thanksgiving!!!
Friday: Leftovers, of course!
Saturday: Chili
Fitness Plan:
Sunday: Yoga Meltdown - Level 1
Monday: Ripped in 30 - Level 1
Tuesday: Ripped in 30 - Level 2
Wednesday: Yoga Meltdown or Rest
Thursday: Walk after dinner!!
Friday: 3 mile run
Saturday: 3 mile run
We have company coming into town Wednesday, so it might be a rest day for me. We will see.
I hope you all have a great week! I will try to get another post or two up, but we will see what happens with that.
Don't forget to link-up with your weekly plan!
So long for today...
<!-- start InLinkz script -->
<script type="text/javascript">
<!-- end InLinkz script -->