Good morning friends. I hope you are all having a great weekend. Are you all getting geared up for Thanksgiving? It's less than 2 weeks away now. Does anyone else think that they are pushing Christmas early this year? It seems like people are decorating earlier, people are shopping earlier and even radio stations are playing Christmas carols already. My sister is always saying, "Let the turkey have his day!" And I completely agree! We always put our tree up and decorate the day after Thanksgiving. I'm glad that Thanksgiving is late this year, because when its earlier, I'm usually so tired of the Christmas decorations. The day after Christmas, I am so ready to take down the tree and decorations. Anyone else?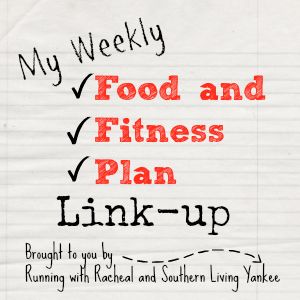 Ok, so let's get to this week's plan. Shall we?
Dinner Plan:
Sunday - Grilled Turkey Brats
Monday - Turkey Patties
Tuesday - Tacos
Wednesday - Recipe Makers
Thursday - Spaghetti & Meatballs
Friday - Leftovers
Saturday - Birthday Party!!
Workouts:
Sunday - 3 mile run
Monday - 30 Day Shred - Level 1
Tuesday - Yoga Meltdown - Level 1
Wednesday - 30 Day Shred - Level 1
Thursday - Rest!
Friday - 3 mile run
Saturday - 3 mile run
So there it is! Hopefully, this week will be calmer than last week was and i can stick to the plan. Have a great week!
So long for today...
<!-- start InLinkz script -->
<script type="text/javascript">
<!-- end InLinkz script -->