Hey everyone! Happy Wednesday! I hope you're all having a great week. Is anyone else so excited that it's the Holiday Season? I really into it this year. We have the tree up, the house decorated, I listen to Christmas carols at work and in the car, I'm using my Santa Tervis,
Addison wears Christmas socks most days. Like I said, I'm really into it this year! Addison has had a lot of fun finding our elf every morning. I'm glad I've been able to remember to move him every night!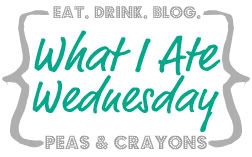 I thought I would make this a What I've Been Eating Wednesday post for you. I've been using some of the leftover Thanksgiving turkey for my lunches in this delicious salad. Here is a not very good picture:
And here is how I make it:
On a bed of romaine lettuce, I cut up some grape tomatoes and add some shredded carrots. You can personalize this with whichever veggies you like. Then I add the turkey, some dried cranberries, low fat feta cheese and some sliced almonds. I top it all with my new favorite dressing: Bolthouse Raspberry Merlot. So good! This salad is amazing and full of healthy veggies and proteins! I feel like the dried cranberries keep the Thanksgiving theme going.
So what have you been eating lately? How have you been using your Thanksgiving leftovers?
So long for today...